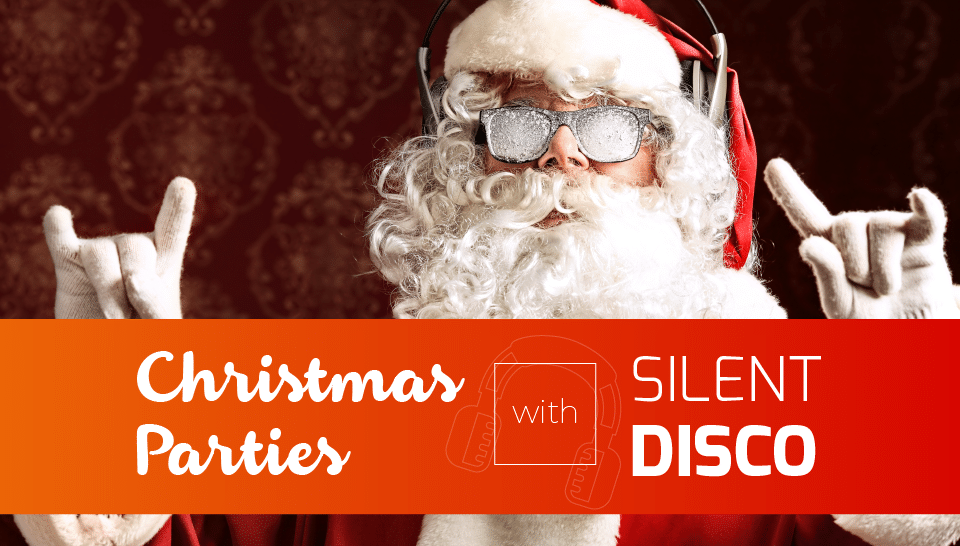 It is never too early to book your Christmas Party Entertainment especially if you are looking to put something rather different on for your staff members, friends, colleagues or family! During the winter months a lot of events take place and a lot of acts are booked out pretty much for every day, so inquiring about your preferred Christmas Entertainment Act with a few months to spare before the big X-Mas Do is advisable.
Now who to turn to if you are looking to turn your ordinary Christmas Party into an extraordinarily fun and memorable occasion this year? You are right where you should be, because Christmas with a Silent Headphone Disco is a truly unforgettable experience and a fun themed party entertainment option that'll be to the liking of every single guest attending your seasonal event.
The Silent Disco will make your company's party or private get-together a wonderfully unique event.
Why Silent Disco for Christmas?
Not only does the original and innovative Disco DJ concept get everyone mixing and mingling on the dance floor, whether it'd be young or also a little older - but with two different channels to avail of it also is the perfect entertainment idea for the "gringes" in the group, for one channel can be filled with Christmas favourites whereas the other can play your party hits!
Doubtfully there will be one person not living it up on the dance floor, but if there should be a needed break to get your breath back then the headphones allow for a conversation without having to shout over bass, drums and loud beats. Since every single attendee is listening to their very own favourite tunes through a set of Headphones, the room in fact remains in complete silence - with the odd awkward sing along you can have a little giggle to.
As you are probably already able to see with Silent Disco Ireland your Christmas Party will be the staff talking point for the next twelve months!
Christmas only happens once a year after all so be daring, be different, be original, theme it the way YOU want it, add as much of Christmas as you like and be a "Top Man or Woman" by giving your perhaps lesser Christmas-jolly friends and colleagues a little less of the magical songs but a little more of chart toppers.

The Best in the Business
Creating events that live long in the memory is something our team specialises in and absolutely adores doing, and we are proud of the fact that we have created together with our satisfied clientele, original and one-of-a-kind Nollag celebrations for every type of corporate and private event imaginable. Whether you are looking to put on a BIG party or a small intimate gathering, our DJs are more than happy to suit their set to your needs and will of course calculate the sets of headphones required for the night, with a competitive and attractive price matching our packages.
We enjoy over 25 years in offering stunning, fun, professional and talented entertainment acts for Christmas Parties all over Ireland and are delighted to be able to combine your Silent Headphone Christmas Disco with a visual act such as our Digital Poi Dancers to bring the fire to your guests dancing steps.
So if you are looking for a stress free booking, a competent and friendly service as well as and most importantly an outstanding Christmas Entertainment Act to surprise and elate your party goers with than all there is left for you to do is call +353-1-201-3660 or alternatively head over to our Booking Form Page and fill in your details.
It is so important to book top quality, professional, flexible and quirky winter entertainers to have everyone attending smiling and not dread the upcoming event. And with all that in mind you need a person who has experience and who will get on with things, guide you through everything you need to know and don't bother you with unnecessary details. Someone that can work with your Christmas party themes and present you with an array of options to truly and to the last of the smallest details suit your every need. Our bookers are that person and will present you with your ideal Silent Headphone Christmas Disco.
We're looking forward to hearing from you!