Why Silent Headphone Discos Are Perfect For Corporate Events
Do you know what a Silent Disco is? A Silent Disco Ireland is an innovative Corporate Entertainment Idea for all events, where people dance to music listened to on individual and wireless headphones. Rather than using a speaker system, music is broadcast via a radio transmitter.
This is the perfect way to offer your Guests a Unique Clubbing Experience for your Corporate Event, Wedding Celebration or Birthday Party adding the WOW Factor, while filling the dance floor with your favourite tunes. The DJ on stage has the ability of playing two completely contrasting genres – to suit your guests' musical tastes and cater for your own preferences in songs.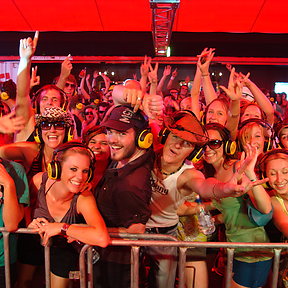 Silent Disco Ireland is an Original and Alternative Corporate and Wedding Entertainment Idea for hire nationwide, giving you the opportunity to experience live music in a totally unique way – whether it be a DJ or a Live Band. Guests wear wireless headphones and a silent atmosphere instantly transforms in to a high-energy musical performance. Those without the headphones hear no music, giving the effect of a room full of people dancing to nothing and you can enjoy the freedom of chatting with your friends or colleagues undisturbed, without having to shout over each other's every word.
When the Silent Disco headphones are on, the sound is crisp and clear anywhere in the venue – whether you are in front, in back or even in line for the restroom (just because you need to take a break, doesn't mean the music has to stop).
Other good reasons to choose a Silent Disco for your Unique Corporate Event?
Noise …
Noise won't be a problem no more! Sound restrictions? Amplified sound ordinances? These are things of the past! Take back your musical freedom and throw an event anywhere you desire.
… And if you are wondering whether your Guests can talk each others … well, a silent disco atmosphere is more conducive to holding a conversation with your Guests than at a venue with a traditional sound system. Simply slide the silent disco headphones partially or completely off and chat freely.
So, what are you waiting for?
To book Silent Headphone Disco Ireland for your Wedding or Corporate Event call +353 1 201 3660 and speak to our team at Audionetworks, for a cost effective, stress free booking process – promising confident, competent and friendly advice!.