The Silent Headphone Disco phenomenon reaches elevated popularity in Ireland throughout the festive season. There are many reasons to hire your very own Silent Disco DJs this winter, but let us make it simple for you and present to you the 10 BEST Reasons To Book A Silent Headphone Disco For Your Christmas Party. Take a look below, allow us to intrigue you by the Innovative DJ Concept we are able to offer you throughout Ireland and book this Unique Disco for your Christmas Function via our Contact Form or alternatively please do give us a call on +353-1-201-3660
1.) You're in control: Pick YOUR channel and choose your side as two DJs battle it out over separate wireless channels, playing the best in pop, rock, party classics and Christmas favourites. If you don't like a tune – simply switch.
2.) No noise complaints / restrictions: Since you are listening to the music at your Christmas Party over headphones, outsiders and bystanders won't be able to hear the music – hence the "silent" in Silent Disco, as essentially visitors would walk into a room of people dancing in silence (to them).
3.) Freedom to chat: Feel like a 'time out' to chat to your colleague, friend or family member without having to shout over loud music and the inability to properly understand one and another? Silent Headphone Disco Ireland allows just that !
4.) Environmentally friendly: Christmas Parties can be enjoyed inside, but also outside in the snow – what about beside an ice rink or at a Christmas Fair? With Silent Headphone Disco there are no fears of scaring away or disturbing Ireland's natural wildlife and adjoining premises with loudspeaker systems.
5.) Be Unique: Surreal, bizarre, slightly outrageous but most of all hugely enjoyable, Silent Headphone Disco is one of the most exciting disco party experiences to emerge in years.

6.) Be a Talking Point: When letting your Christmas Party Guests know what you have in mind for your Disco Entertainment, there undoubtedly will be a few leaning right away on 'google' and finding the urge to discuss the Original DJ Duo Act with the other party-goers, gathering thoughts and experiences. You and your party will be talked about as soon as the planning-process commences.
7.) No Age Restrictions: The Silent Headphone Disco is a fun way to enjoy a party for all ages and with the choice of two different channels, you could even make one more age appropriate than the other, to cater for all party goers.
8.) Cost Effective: A Silent Headphone Disco for your Christmas Do, is more affordable than hiring a Party Band during the festive season.
9.) Create your own theme: Since we are on the subject of Christmas, why not create a Christmas inspired Silent Headphone Disco on one channel and one side of the room, whereas the other channel will cater for the 'not so keen on Christmas' crowd with the greatest hits and a decorated party room. Best of both worlds.
10.) Last but not least, have a laugh!! Watching your friends and colleagues dancing to silence is always a picture of weirdness and something that will undoubtedly make everyone giggle.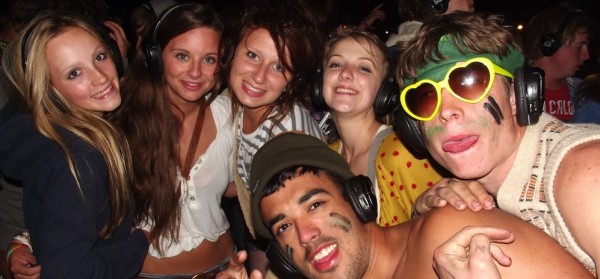 Call +353-1-201-3660 or email info@silentdiscoireland.ie – we're only too happy to plan with you a truly unique Christmas Party experience!