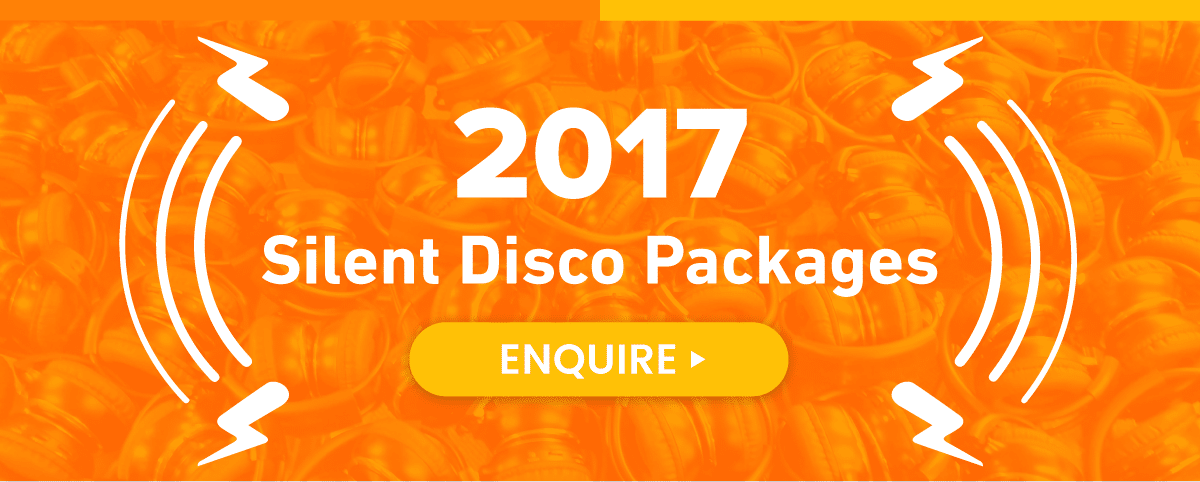 How does it all work? How many headphones can we have? Do you provide the DJ?
Yes indeed the questions keep coming but that's ok as it's still a new thing to most couples getting married. We have been supplying full wireless systems for almost 8 years now so you're in safe hands and have the backup of our experienced team.
It's actually so simple and takes very little time to set up. Your guests just put the headphones on their heads and off they go. They will have the choice to choose between two different styles of music and they can set the volume as loud as they want. Where ever you go in the room you will hear the sounds loud and clear.
Is it a good idea for a wedding?
Yes and yes! It's perfect for weddings. Your DJ can play all the normal wedding music on channel 1 and keep the main bulk of your guests up dancing and happy. Channel 2 can be a bit crazier if you want with Club Sounds, Rock or Drum and Bass if needed. Another popular idea for weddings is when your DJ finishes up, and then you start the Silent Disco. He will play as normal through his PA system and finish up at the time the venue permits. The party can now continue into the early hours with no noise pollution and no complaints from the hotel.
Another cool idea for weddings is to get up to 10 / 15 headphones in for the young kids, put their favorite music onto your phone and let them have their own little party. It will keep them occupied and is great fun for them.
I have no DJ but I have a playlist on my phone, will this work?
Yes, this is perfect. You do not even need a DJ if you have playlists set up on your iPhone or iPad. It works out at about 25 songs per hour so just pre-program the show with as much music as you need. TIP, your music choice needs to be fairly boppy with a selection of well known popular tunes to keep the dance floor packed. Everybody can get a playlist together, it's easy, just remember to load up two iPhones or iPads with a good selection of music for all ages and tastes.
I don't have time to come to Dublin to collect the headphones, can you deliver them?
Yes we can deliver set up and collect or we can use a courier service, it's up to you. If you get your DJ from us he will bring the entire kit on the night but if you only require the headphones we can save you money. The courier service is based on exact times and the gear needs to be returned to the courier the next day at an exact time arranged in advance. Missing the courier at the delivery stage will result in the kit going to a depot so it's vital to stick to the times arranged. It's very easy to set up and we provide all the necessary cables required.
How many headphones can I hire?
We do festivals and can cater to large amounts of party people at once but when it comes to weddings and private parties we like to start at around 10 sets and go up to 350 if required. We have packages to suit any size event but common size packages are 25, 35, 50, 75 units, and up. (FYI if ordering the courier service we cannot exceed 75 headphones due to the size and weight of the transport case.) Audio Networks are the main agents for hiring Silent Headphone Disco in Ireland. They manage and maintain the equipment and have several packages available to suit any size event with up to 1500 headsets for festivals.
Are new batteries included in the price? Yes, we supply fresh boxes of batteries and it's easy to replace them if they need be. The headphones will easily last the length of a party so this is not an issue as it takes less than 30 seconds to pop in a new set.
So what are you waiting for?
Get on to us now and reserve your silent headphone party pack. We will give you a really great price and your guests will be amazed at the fun to be had for hours late into the night.
Like us on Facebook for the latest news and special offers from us!